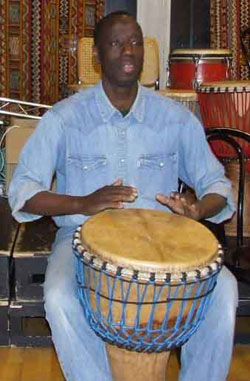 Maré Sanogo was born in 1951 in the village of Makono, Kayes in Mali. At the age of 15 his outstanding musical talent was discovered by the director of the National ballet of Mali.
He was one of the best solists of the first generation of the Ballet and in his 16 years lasting career in the National Ballet of Mali (from 1966 to 1981), he played a major role in the musical achievements of the group. In 1981 he moved to Paris. He still plays in major events and international festivals. He worked and played with many musicians like Lamine Konté, Robert Hossein, Louis Cesar Ewande, André Cécarelli, Hank Jones, Cheik Tidiane Seck, Dee Dee Bridgewater, and others. His first CD titled Fourasi was released in 2004.
He gives master-classes percussion, accompanies and works with African Dance shows, mainly with the Ballet of Béjart in Lausanne and with Norma Claire in Paris. Thanks to his journeys all over the world he he became very open-spirited and inspiring with extraordinary communication and teaching skills, without never forgetting his roots.