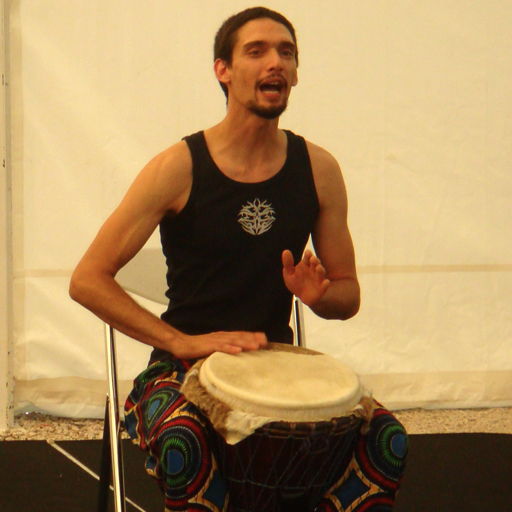 Adonis Papadopoulos was born in 1981. He studied traditional percussion instruments (darbouka-toumbelek, davul a.o.) with M. Klapakis, classical percussion with K. Vorissis and K. Theodorakos.
In 2001 he got acquainted and fell in love with the djembé, one of the most virtuoso African solo percussion instruments. Studied alongside African masters in Greece and Africa (Maré Sanogo, Karim Coulibaly, Bachir Sanogo, Kassoum Diarra, Ponda O' Bryan, Yeye Kante, Moussa Oulare, Adama Bilorou Dembele, Sidiki Camara, Dartagnan Camara, Thomas Guei, Harouna Dembele, Mbar Ndiaye and others).
In 2003 he started collaborating with Anna Karamitsou as a musical accompanist in her African dance classes and workshops. In 2004, after having been trained by Anna Karamitsou, Anna Karamitsou and Antonis Papadopoulos founded the African dance and percussion group SELI KANOU.
In 2009, he participated in Studio Seli Kanou's educational journey to West Africa (Mali), where he had the chance to take african percussion master classes with Maitre Mare Sanogo and local teachers.
He has collaborate with: Seraphin Zekoua (Ivory Coast) and Lopez Lumbu in the group "Garouda Fusion Trio", Nikos Touliatos/"Echodrasi" a.o.
Through the Seli Kanou group he has collaborate with Maitre Mare Sanogo, Mama Adama Camara, Bachir Sanogo, Kassoum Diarra a.o.
Studies and researches the traditional music of West Africa. Has been teaching percussion since 2007. Numerous appearances as a percussion soloist. Has also collaborated with several other musicians, music groups and theatre groups.